Wellbeing @ Ararira
by Nicky and Hinehau
The definition of Wellbeing we have adopted as a school is: Feeling good and functioning well.
Why teach wellbeing?
Wellbeing protects mental health and facilitates learning

We have an increasing number of students suffering from anxiety and other mental health issues and behavioural disorders within our schools. 
At Ararira Springs Primary (ASP) we are working with Dr Lucy Hone from the New Zealand Institute of Wellbeing and Resilience. Last year our focus was on teacher wellbeing and creating our schools model. This year we are continuing this, as well as focusing on teaching wellbeing to students in 2020 (and beyond). 
Our Model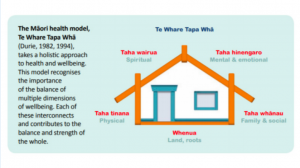 At Ararira Springs we have adopted the hauora holistic model – Te Whare Tapa Whā. The dimensions of the whare represent emotional and mental well being (taha hinengaro); physical (taha tinana); social and family (taha whānau); and spiritual (taha wairua). By working on each taha or side, we can help develop positive wellbeing. When one is not functioning well, we are not whole. Here is a clip explaining the model. 
More information about this can be found on the Mental Health Awareness website.
Our Vision
At ASP, wellbeing literacy and resilience becomes the lens through which we make decisions related to pedagogy, curriculum, policy and practices. It's a whole-school approach. We know that learning and intelligence are not fixed, but can be grown. This is called a Growth mindset. 
We will adopt a strengths-based focus where our students and staff will notice their own strengths and then focus on the strengths of others. You can take the character strength survey yourself. An interesting read!
Our main domains of teaching wellbeing will fall under the following topics: 
managing emotions, 

kindness and friendships, 

identity and culture, flourishing 

strengths.
Information for whanau:
Sparklers website This website is one we use in our classrooms regularly. It is a free wellbeing toolkit full of fun and simple activities to help tamariki learn about their own mental health and wellbeing
Examples of what they provide: Great resources for mums and dads.
How to help your kids…. 
with sleep

keeping calm  

manage worries 

be grateful & kind 

feel good and have fun. 
Other places to visit for guidance: