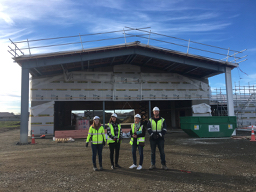 Our site meeting today was made all the more exciting by a walk through the buildings to see the unbelievable progress that has been made in the last six weeks. The school is taking shape at a phenomenal rate with the roofs on the hall (Ararira), admin (Tāhuna) and long block. 90% of the framing is in place for Ararira and Tāhuna and windows and glass will be added next week.
By the end of next week all steel and concision panels will be in place and all sub contractors will be on site to begin the next stage of work. Very soon gib will be in place and work will start on the building interior.
Work is simultaneously being carried out on site in regards to the exterior with drainage, the Russ Drive extension and the car park. The Establishment Board and Leadership Team would like to extend their thanks to Phil and the Southbase Team and Laura and the Ministry Team for their incredible hard work in maintaining serious momentum with this project. You guys and your respective teams, are simply, fantastic!