Mana Ōrite / equal status is founded on the principles of Te Tiriti o Waitangi. In our school it is the understanding of mātauranga Māori, Māori approaches to teaching and learning and the Te Ao Māori kete of knowledge, as having an equal value within education. It is also taking action to redress the structural foundations that have previously placed lower status on Māori expertise in the school curriculum in New Zealand and underserved Māori ākonga, and by addressing mistakes made in the past that have resulted in unequal outcomes and cultural disconnection for previous generations of Māori ākonga in education.
Our inclusive and encouraging environment welcomes the use and celebration of te reo Māori and te Ao Māori concepts so that ākonga can thrive. We recognise our role in ensuring that the Māori language is valued and sustained as a living language in Aotearoa. We have a robust Tiriti o Waitangi policy that recognises the special place of the  Māori language in Aotearoa as a taonga of Māori people. We are committed to ongoing and continuous improvement of te reo Māori language provision by developing staff capability, and to providing support to achieve aspirations of ākonga and whānau. 
You will find Mana Ōrite embedded in our school values which are based on putting the ākonga at the heart of all we do and empowering ākonga to enhance our world.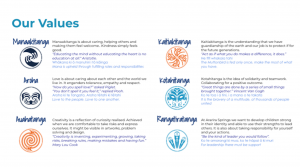 Across our school environment, you will see imagery and whakatauki that link to our cultural narrative. Inside the learning spaces, you will frequently hear karakia and waiata, and our aspiration is that each ākonga has the opportunity to develop beneficial relationships that ensure they feel cared for and confident students. We want all students to have equitable support and opportunity to meet their potential, experience success and thrive.
In our teaching and learning, you will see us using authentic contexts that value the cultural heritage, language and identity of all ākonga, with the recognition that understanding Māori history, culture and language is important knowledge for all our students, not just ākonga Māori, as citizens of Aotearoa / New Zealand. 
At age-appropriate levels you will find us:
Exploring diverse historical perspectives

Frequently using te reo me ngā tikanga Māori 

Practising Kapa Haka both in class and for performance

Integrating cultural contexts across the curriculum

Sharing value-based student learning profiles over time

Including Enviroschools projects in our learning programmes

Regularly meeting with whānau to share success and address challenges
We are guided and supported in our teaching by the resources made available by Ngai Tahu, as well as recognising the different Tangata Whenua histories and stories from each rohe across the motu.