Coaching is a practice that is becoming more widespread at Ararira Springs – Te Puna o Ararira. 
It fits strongly with our core values of being caring, curious and capable. It is based on a respectful, non-judgemental relationship, the coach is open and curious, asking questions that enables the coachee to come to answers and considerations of their own accord. It builds capability in both parties; the coachee is empowered to set and meet goals by developing an action plan, the coach develops skills of listening and questioning.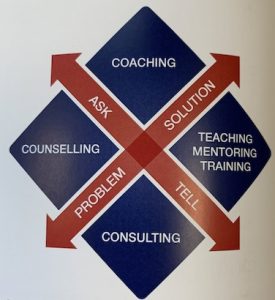 Coaching Defined
Systematic process

Outcome and solutions focussed

Collaborative

Empowering

Facilitates learning and change

Involves new learning and thinking
Coaching forms part of our appraisal system, each teacher has a coaching relationship with another staff member. This is supportive of their wellbeing, there is designated time to meet with their coachee. This is an opportunity to talk about any topic or to think about the goals set for the year and making progress to achieving these. It might also be a time to reflect on aspects of their professional inquiry or learning practice.

In 2020, we introduced coaching to our Year 7 and 8 students. With the help of volunteers, students are now experiencing coaching on a regular basis. Students meet with their coaches every three weeks and work through a similar process to teachers. This provides an ear of someone who may be outside the classroom and the chance to work towards identified goals.
Wellbeing is central to our practice and coaching sits beautifully alongside this. Coaching provides the opportunity to meet with a trusted person on a regular basis with each session starting on connecting with the coachee ensuring all is well. Coachees feel cared for and coaches develop capability.