Connect Communication -
19th February 2020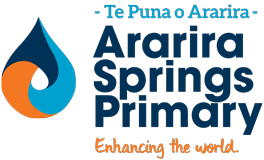 Today we welcomed back Matua Blair, Whaea Carolyn and our Kaunuku campers from Living Springs. They had a wonderful time completing challenges, learning about the outdoors and having fun. I was lucky enough to attend on Monday. It was a very hot night which made falling asleep tricky. There is sure to be a few tired campers this evening.
Thanks to the teachers and parent helpers for giving their time and energy to support this activity. EOTC is something that requires that extra effort and we appreciate your hard work and energy.


Our Board meets tonight and as part of this meeting, we will look at our Charter, Strategic and Annual Plan. Most of this content is linked to the website but it is also on display in Pūtahi | Library. Please take time to check this out, our plan on a page is great for quick and easy reference.
Te Hapori Tautoko met last week and have planned a number of fun events for both adults and children. Keep up to date by subscribing to their Facebook page and an eye on the newsletter.


Please keep reminding the children to wear their high vis vests, we want to support this council initiative and keep our children safe on their way to and from school.


Curiosity Clubs start on Friday week, thanks to those of you who have volunteered to help out. Once again, there is a range of exciting options for children to select. It is a favourite time of the week.


Have a fabulous week and we will see you soon,


Events to Diary
Board of Trustees Meeting - 6:30 pm
Year 7 & 8 Technology at LPS, followed by swimming
Hui 9:15
Curiosity Clubs resume 9:30 - 10:30 am
Ice blocks on sale at 3 pm as a camp fundraiser - $1
ASB/St Johns visiting (2-day visit)
Y5 - 8 Swimming Sports at Southbridge
What Now! filming in Lincoln - see below for registration for the event
From the Office
Can you help one of Ararira families who live near the University? Due to work and study commitments and only having one car, one of our families is seeking help getting their daughter to school in the mornings and home in the afternoon. At the moment, she is transported by another family but this arrangement will end shortly when the family helping returns to Indonesia. Please let Trine know if you can assist.


Taking care in the car park:
Please ensure that especially on windy days, that if your children are opening car doors, that you are mindful of vehicles next to you. Sadly we have had a parent whose car has been damaged twice in our car park by a door being opened into her car, causing damage that they are now left to fix.


If you still have these hanging around at home, please return them asap.


Absences/Late arrivals at school:
If your child is going to be late to school or absent, please let us know before 9 am by either leaving a message on our answerphone or by sending us a message on our Skool Loop App. When arriving at school, please be sure to call into the office and get the children to mark themselves as arrived on our desk tablet.
If you are shopping at one of our App advertisers, please let them know you've seen their advert on our app so they know we are supporting them!


If you haven't added SkoolLoop to your phone, this is a great tool to keep the school calendar and newsletter handy, report absences and receive notices. Download from Google Play or the App Store.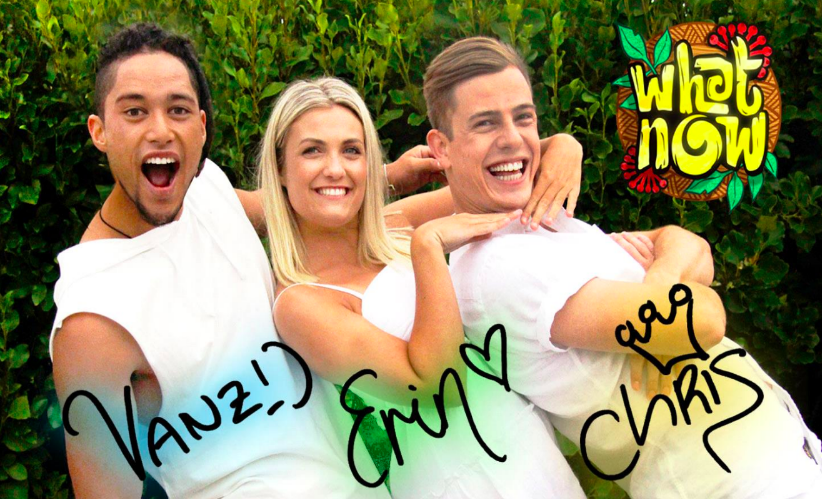 WHAT NOW - New Zealand's top youth TV series - is broadcasting a special Lincoln Primary School show live from Lincoln High on Sunday, March 22nd. And everyone - far and wide - is invited!
It's our 4th show of 2020 and we're pumped! (Evander won't be with us, but we've got a brand new presenter joining Erin and Chris who we can't wait for you to meet.)


Expect loads of free, fun, family-friendly entertainment. Not to mention slime and gunge galore! Ideally, we'd love you all to please register to be part of our audience at www.whatnow.tv/bonus/audience
But don't want to register? No worries! Just rock on up on the day and be a part of a fantastic event, showcasing Christchurch to the nation!
Kindo online store is up and running for our sushi orders and other fundraising initiatives, including Bento Ninja and toothbrushes. Make sure you register to make the most of ordering sushi and supporting THT fundraising
Bento Ninja sells a range of lovely eco-friendly bento lunch boxes and stainless steel pegs. These can be ordered on our Kindo online store.
- bring your friends and family too!
This is a great fundraiser for our school, we'd love your support and you'll love saving time, money and the environment with some fabulous products!
Raffle Prize on the night - buy your tickets from 8.30 a.m. - 9.00 a.m. daily at reception or at the event.
Catalogues are available in the office if you can't make it on the night but are interested in ordering.
Please RSVP to Trine by emailing office@ararira.school.nz for catering numbers.
THT Tuesday Morning Get-Togethers
These take place in Pūtahi (Library) every Tuesday morning once you have dropped your child or children at school. It is a warm welcoming environment where preschoolers are welcome. Please come along for a cuppa and a chat.
THT has a Facebook page which keeps you up to date with THT information, upcoming events and fundraising. Please join our Facebook page by clicking on this link.
Music Lessons
Are you interested in your child learning an instrument? Contact Trisa, Katrina or Cat. Details and information can be found on the music team page of our website.
Music Festival Auditions
Talented singers and musicians from Ararira Springs Primary can now apply for an audition to join a representative group - Junior & Senior Choir, Concert Band, Orchestra - for the 2020 Music Festival.
This is for children in years 5-8. For those who play an instrument and would like to audition, as a guide you would usually be Grade 4 and above for ability. If you are successful then you are required to participate in a 3-day workshop in the October School holidays as well as a few weekend rehearsals in Term 3.
Being selected for a Representative Group for the Music Festival is the artistic equivalent of being selected for a Canterbury level sports team
We will be having a senior choir again this year at the festival.
Thank you to Neil Andrews for constructing our new flip top boardroom tables - you can see we have put them to immediate use!
BREAD TAGS FOR WHEELCHAIRS
Last year we implemented an enviro scheme to help both the environment and disadvantaged people with disabilities. We are collecting bread bag tags which will be melted down to make seedling trays and the profits from this used to buy wheelchairs for people who would otherwise struggle to afford them in South Africa. One kilogram of bread tags is equal to 20,720 bread bag tags and it takes 200 kilograms of bread tags to fund one wheelchair. In just over 10 months we collected 18,525 bread tags within and outside our school community. Bread tags can be delivered to the office at Ararira Springs Primary, Russ Drive during school hours. There are containers in each teaching space. Please encourage your friends and family to support this cause and help people less fortunate than we are.
FROM THE SPORTS DESK . . .
On Monday 24th February, our Year 5-8 students are heading to Southbridge Pool to compete against Broadfield and Ladbrooks Schools in the Lincoln Zone Swimming Competition. The competition starts at 10 am so we will be leaving at 9.15 and travelling by bus. The competition is scheduled to finish at 2.15 so we envisage that the children will be back at school in time for our normal 3 pm finish.
Reminder:
All children need to bring 2 towels (1 to keep warm in between events), swimwear and if they go to the pool in their togs they need to remember to pack underwear and correct uniform. The rule at the pool is that there is no underwear worn beneath togs.
Selwyn Sports Trust - Give it a Go! Events
With a large majority of Winter Sport at junior level commencing in
term 2, Selwyn Sports Trust would like to introduce 6-to-9-year-olds to the awesome winter
sports on offer in Selwyn.
Why this age group? For a lot of children at this age, it is their
first experience being involved in organised sport. Try it out Tuesday
is about introducing Selwyn children to as many new and exciting local
sporting opportunities as possible - there are 8 sports involved!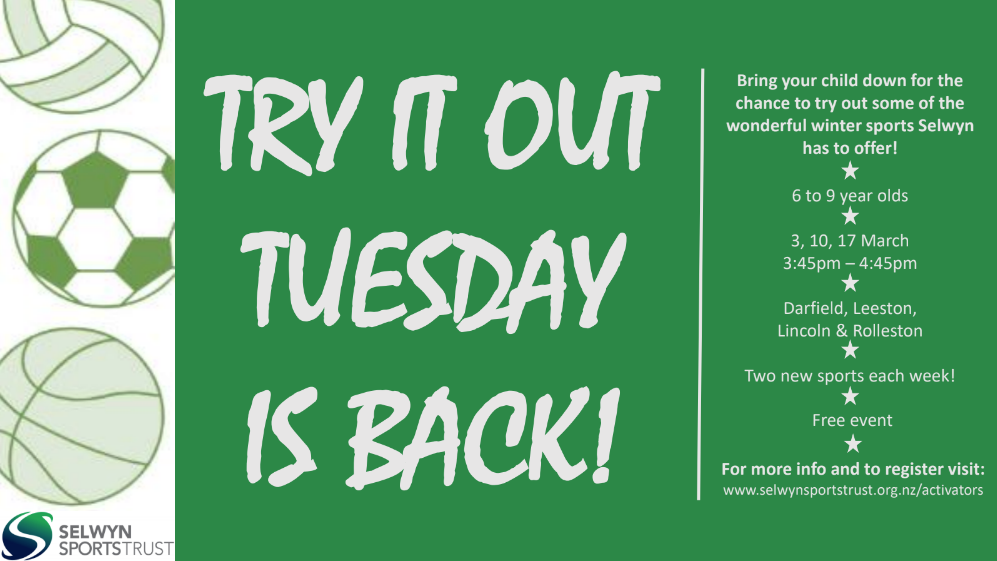 We've also been inundated with requests from local sports groups to include them in our newsletter - check out their websites for future information.
Learn & Play After School Golf - commencing 17th February at Tai Tapu Golf Club, contact play@futurescanterbury.co.nz or call Rachel on 359 4147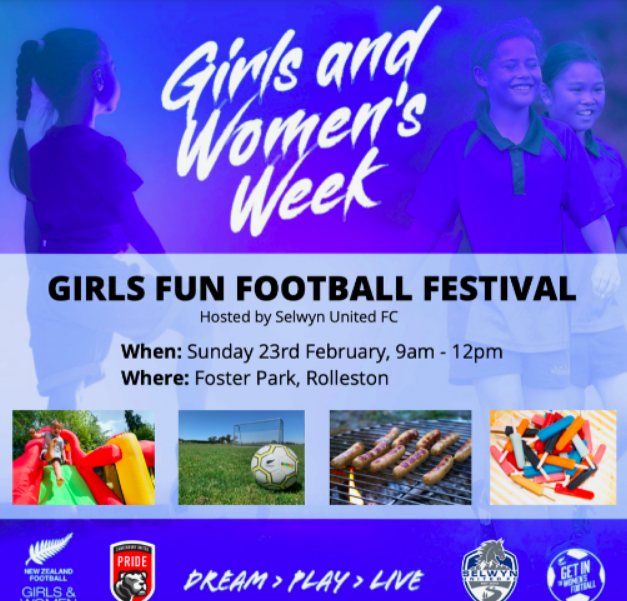 Merino Jumpers Care Instructions
We have been communicating with True Fleece Merino for the best way to care for their jumpers. They offer three care instructions;
Buy the correct size to avoid extra wear and tear on long cuffs

Use a liquid, eco friendly wool wash product

Avoid drying the garment in the sun.