Connect Communication
16th October 2019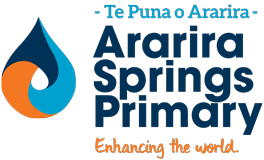 Welcome back to Term 4 as we draw to the end of our very first year as a school. Today our roll sits at 148 children and we look to start the year with 170 children. If you know of anyone who is planning on coming to Ararira please encourage them to pre-enrol as this impacts our class composition and organisation.


We are excited that we are developing as a learning community and know that we are in this together. This is illustrated by the community events on offer and positive energy in the playground and classroom.


Two events illustrating this are the get together at The Flaming Rabbit next week and our FUSH Te Reo on October 31st. We hope that you can join us for one or both of these events.


Please know that my door is always open and always look forward to the chance to catch up.


When: Thursday 31st October, 5-7pm
Where: Pūtahi or the hall (depending on numbers)
What: Dinner and Te Reo Māori
Come along to school for fish/chicken and chips with Anton Matthews from FUSH, Wigram. Anton will bring his FUSH Tank to school and cook up dinner $15 for adults and $10 for children. He will then run a te reo Māori lesson for families. Dinner orders are from 5 and te reo will run from 6-7pm.
This promises to be a fun, entertaining, interesting and delicious evening.
Please help us with planning by RSVP to this event by email to Trine, office@ararira.school.nz.
What's on in the week ahead . .
Y5/6 - Visit to Te Taumutu Marae
9:15 - Open morning for prospective new families
Competitive Athletics (Y5-8), Foster Park
9:00 THT Get-together - Meet in Pūtahi for a coffee and a chat


6.30 - Board of Trustees Meeting


7pm - 9pm - Community Event at The Flaming Rabbit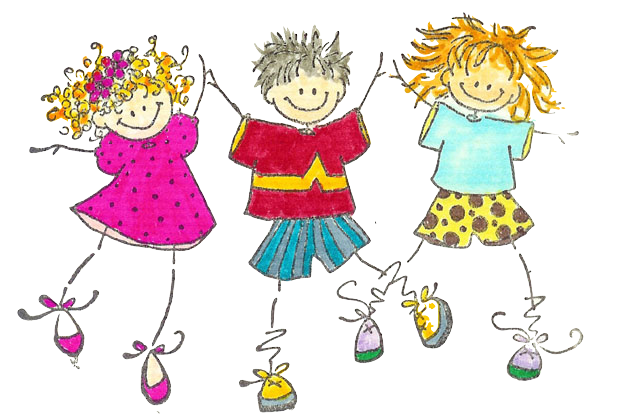 Our Ararira Springs Family continues to grow! A warm welcome to Ayna, Zara and Sophie who joined Teretere this week and to Harrison who joined Kaunuku 6. We know that you will soon love our school as much as we do. We look forward to getting to know you and working with you.
If you know of other children planning on joining us later in the year or even in 2020 can you please encourage families to contact Trine in the office on 420 0888.
Canterbury Tops in Trampolining
In the first week of the October break, I went to Auckland to represent Canterbury in the National Trampolining Championships. I competed in 3 different events; individual tramp, double mini-trampoline and synchronized trampoline (two people).
Canterbury won the most medals out of every region in the whole of New Zealand. I got 1st in my individual trampoline, 2nd in my synchronized trampoline and 3rd in double mini-trampoline and 1st overall out of the 25 people that were competing in my age group.
I feel very proud of myself to be representing Canterbury in a national competition and to have won a national competition.
In order to compete in such big competitions I've got to train hard, this means I train 8 hours each week.
I am looking forward to competing in future competitions.
THT Tuesday Morning Get-Togethers
We are enjoying seeing new faces at the THT Tuesday morning get-togethers. These are held in Pūtahi/ library once you have dropped your child/children off at school. Please come along for a cuppa and a chat, preschoolers are welcome.
A big thank you to all the parents who helped organise the sausage sizzle. It was fantastic that we had so many sausage orders.
Just a reminder that sushi is able to be ordered for your child/children's lunches on a Wednesday. Order form to be placed in the sushi box in the office by 9am on Wednesday morning.
This is on Wednesday 30th October starting at 7pm in Putahi/Library. Anyone is welcome and it would be great to see you there.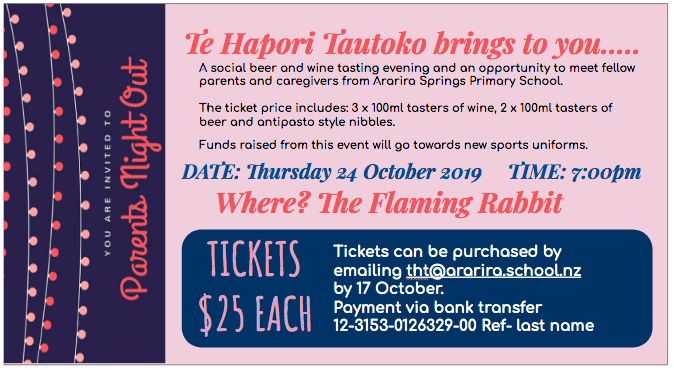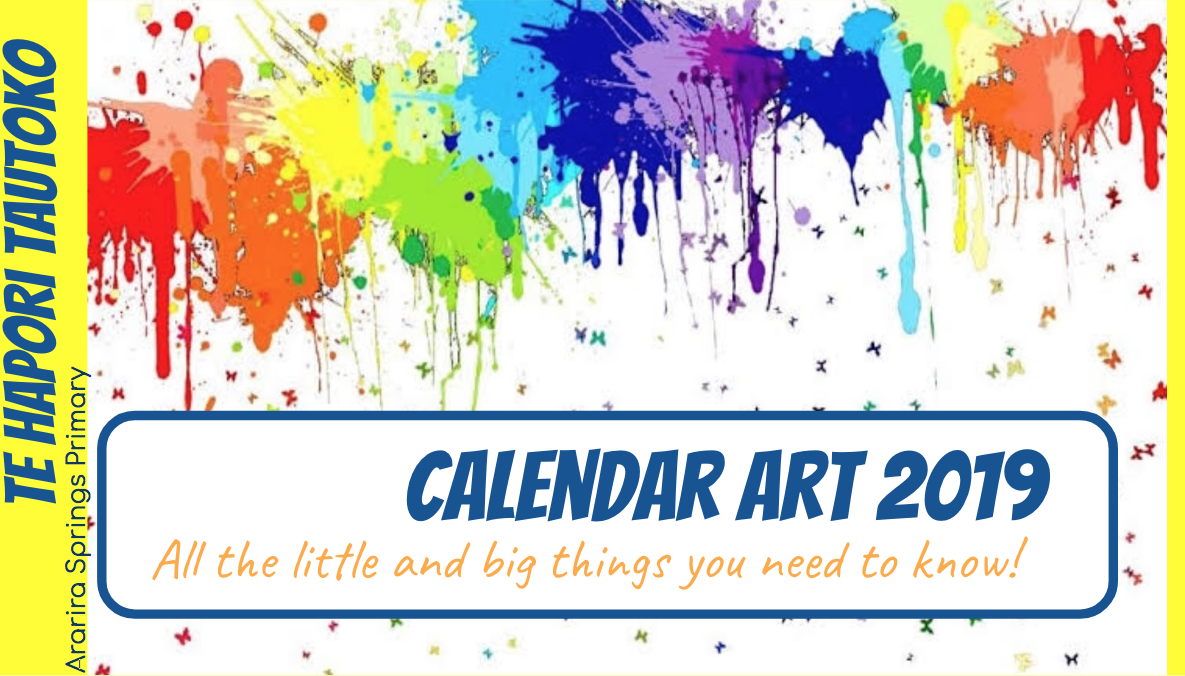 Over the next two weeks all of our Ararira students will become artists as they explore a variety of materials and tools to produce their own artworks. These artworks can be transformed into calendars, cards and diaries and will be available for you to purchase. Just in time for Christmas, they will make gorgeous gifts for loved ones.
Keep an eye out for the order forms that will be sent home this week. If you would like to view the artworks before ordering, they will be available to look at in the pūtahi (library) on Monday 28 and Tuesday 29 October. Please return order forms to Tahuna (office) by 29 October.
Please make sure that you keep us informed if you change cellphone numbers, addresses etc so that we have up to date information to contact you in case of an emergency. You can email changes to office@ararira.school.nz
End of Day Play - Our music at 3.15 pm is the signal for any children who haven't yet gone home to head home. We love that children want to stay at school and play after 3 pm but need to know that you know where your children are!
They are welcome to come back to school, after they have been home, changed out of their school clothes and come back (that way, we know they have been home)!
Term 4 - Sunhats Required!
As we welcome back warmer days, its time put on a hat for outside play. We have hats in the office for sale - $12 each. Please ensure that hats are clearly named before they come to school!
If you child has been road patrol trained this year then they will be invited to this event. There will be a registration form sent out next week.
Thanks to New World Lincoln
Thanks to Helen and Kyle from Lincoln New World, for the generous donation of picture books which were surplus from a New World promotion. We were given enough to make sets of reading books as well as give one to every Year 1 child at school. Thank you for your generosity and promoting the love of reading.
Play according to Albert Einstein, is the highest form of research in which children can build a foundation for a lifetime of learning. So it is no coincidence that it is part of learning at Ararira Springs Primary, Play is integral to our programmes, supporting strong literacy and numeracy development and allowing tamariki to have a choice in their learning, …
A new place to share the learning that happens outside of school.
Brené Brown's most recent book, 'Dare to Lead' follows her phenomenal TED Talk success. Her talk on the power of vulnerability is one of the most-watched TED Talks and if you are a Netflix subscriber, her documentary is also worth viewing. https://www.ted.com/talks/brene_brown_on_vulnerability?language=en In a school setting her work brings together a number of threads. It is about developing an awareness …
Free Dental Care for Children - including special information regarding Year 8 students
One of our Community Dental Service vans will be making a visit to your school soon.
Only the children who currently require a check-up will be seen at this visit

. Please do not be concerned if your child is not called for a check-up this time.

The dental therapist will provide a regular check-up and preventative care which may include:
Cleaning/Scaling (to remove plaque from teeth) Dental x-rays (
to check for decay in teeth, or presence and position of teeth
) Fluoride Varnish (painted on teeth to help prevent decay) Fissure Sealants (coating put on teeth to prevent decay) if required.
If your child requires any other dental care, they will bring home a 'Care Plan' which will explain what dental care and appointment times are required.

When you receive the 'Care Plan' please contact our

Call Centre as soon as possible

as you will need to arrange a time to bring your child to one of our Community Clinics for this dental care.
Please contact our Call Centre if you want further information on the Community Dental Service, to enrol your child or if you have any specific questions about your child's dental care (a dental therapist will call you back)

Year 8 students:

all year 8 students enrolled with the Community Dental Service are transferred from the Community Dental Service to a FREE private dentist from year 9 until their 18

th

birthday. To help with this transition please ensure you have informed your child of their family dentist (not orthodontist). This will enable us to transfer your child onto the correct dentist for year 9 onwards. More information will be sent home after their year 8 check-up.
To contact our Call Centre: phone 0800 846 983 / email commdental@cdhb.health.nz
Mana Ake Coffee Group
Where? Coffee Culture - Lincoln
When? 1.30pm - 2.30pm Fridays
Who? Everyone welcome - find our kaimahi wearing their lanyards
Each Friday during term time - beginning on Friday 6th of September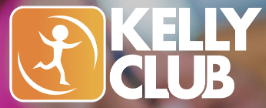 Don't forget to check out Kelly Club Ararira for their holiday programme and before and after school care.


Ararira Springs raised $414 for Cure Kids Red Nose Day so we'd like to say a very big 'Thank you' for all your support. Next year, we plan to have a lot more red noses to sell!
Guitar/Singing or Ukulele
Katrina has spaces available for next term and next year.
Please get in touch if either you or your child would love some lessons.
Contact Katrina on either 322 5592 or 027 202 2309 or

Merino Jumpers Care Instructions
We have been communicating with True Fleece Merino for the best way to care for their jumpers. They offer three care instructions;
Buy the correct size to avoid extra wear and tear on long cuffs

Use a liquid, eco friendly wool wash product

Avoid drying the garment in the sun.
From the Sports Desk . . .
Learn & Play After School

Golf

Programme
Includes opportunities to develop skills through fun games and experience learning

golf

on the

golf

course.
Starting Monday 4 November at Tai Tapu

Golf

Club