Connect Communication -
12th February 2020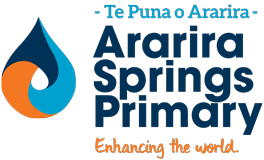 It was lovely to see so many families at our community picnic last night. This was a perfect opportunity to meet the other teachers in your child's hub and mingle with other families too.


We have become a sun smart school and as a result, promote the wearing of our wider brimmed and bucket hats. If your child has misplaced their school hat they are welcome to wear a similar shaped alternative. Without a hat, they have their break in the library or shade areas.
Most children have been issued with a high visibility vest. This is a Selwyn Council initiative and these have been sponsored by many community groups. We want to promote active transport to and from school; walking biking and scootering. If the children wear their vests they are easily seen. We will be promoting this over the next few weeks. Can you please encourage them to put it on before they leave home?


In the next wee while we will be looking for a part-time caretaker to help look after the grounds. If you know anyone looking for some extra hours please let them know. However, if you are a handyman (or know someone) with an electric screwdriver we would appreciate your help in the assembly some flat-pack tables.


Last year Ryan, a year 8 student completed his inquiry by proposing to the Board that we have beehives at school. This is an educational opportunity and will be managed by an independent organisation. These will arrive next week. Thanks Ryan for your passion and hard work - māku e whakatika!


It's been a wonderful few weeks at Ararira and we look forward to all that the Term holds!


Claire and the Ararira Team
Events to Diary
Board of Trustees Meeting - 6:30 pm
Hui 9:15
Curiosity Clubs resume 9:30 - 10:30 am
Ice blocks on sale at 3 pm as a camp fundraiser - $1
Our Bees arrive at Ararira - 3 pm
Norwex Fundraiser 7:30pm
We are looking forward to having our Kindo online store which will be available to use soon for fundraising orders and payments online. Sushi orders will also be completed through Kindo. More information about setting this up will be emailed out soon.
Bento Ninja sells a range of lovely eco-friendly bento lunch boxes and stainless steel pegs. These can be ordered on our Kindo online store.
Save the date - 26th February 7pm for our Norwex Fundraiser
Come along to our Norwex fundraiser. These products are amazing and it is a great way to meet whanau at our school
THT Tuesday Morning Get-Togethers
These take place in Pūtahi (Library) every Tuesday morning once you have dropped your child or children at school. It is a warm welcoming environment where preschoolers are welcome. Please come along for a cuppa and a chat.
Music Lessons
Are you interested in your child learning an instrument? Contact Trisa, Katrina or Cat. Details and information can be found on the music team page of our website.
From the Office
Absences/Late arrivals at school:
If your child is going to be late to school or absent, please let us know before 9am by either leaving a message on our answerphone, or by sending us a message on our Skool Loop App. When arriving at school, please be sure to call into the office and get the children to mark themselves as arrived on our desk tablet.
If you are shopping at one of our App advertisers, please let them know you've seen their advert on our app so they know we are supporting them!


To ensure the safety of children on site at school, we would be grateful if you can observe the car park speed limit when entering and exiting and make sure that if you are on your phone, that while you are in a vehicle with the engine running, you use a hands-free mode to be sure of keeping all our children safe. It's the law!


Please ensure that these are returned to the office as soon as possible - we are required to renew these annually.


Merino Jerseys and Cardigans:
Cut off for orders will be 3 pm Friday 14th February. True Fleece is aware of some quality issues last year and have been working with their material supplier and will be reinforcing cuffs and seams. They are offering a 50% discount to people who ordered last year.


If you haven't added SkoolLoop to your phone, this is a great tool to keep the school calendar and newsletter handy, report absences and receive notices. Download from Google Play or the App Store.
FROM THE SPORTSDESK . . .
With a large majority of Winter Sport at junior level commencing in
term 2, Selwyn Sport Trust would like to introduce 6-to-9-year-olds to the awesome winter
sports on offer in Selwyn.
Why this age group? For a lot of children at this age, it is their
first experience being involved in organised sport. Try it out Tuesday
is about introducing Selwyn children to as many new and exciting local
sporting opportunities as possible - there are 8 sports involved!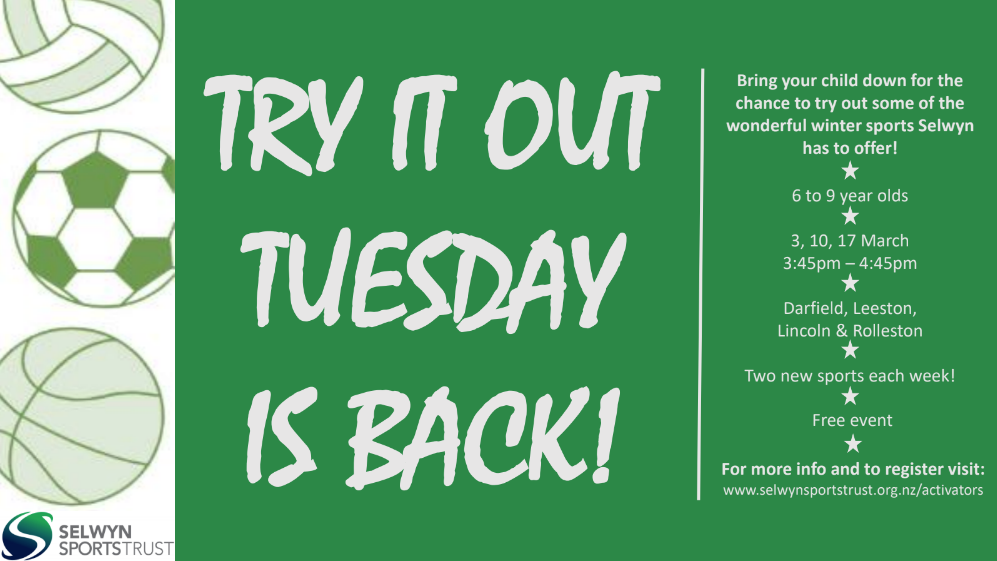 We've also been inundated with requests from local sports groups to include them in our newsletter - check out their websites for future information.
Learn & Play After School Golf - commencing 17th February at Tai Tapu Golf Club, contact play@futurescanterbury.co.nz or call Rachel on 359 4147

Merino Jumpers Care Instructions
We have been communicating with True Fleece Merino for the best way to care for their jumpers. They offer three care instructions;
Buy the correct size to avoid extra wear and tear on long cuffs

Use a liquid, eco friendly wool wash product

Avoid drying the garment in the sun.