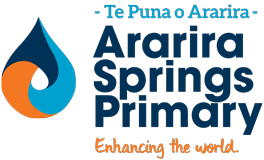 Connect Communication - 22 May 2019
It has been another great week at Ararira Springs Primary. Lots of learning, love and laughter this week.


Yesterday saw our inaugural fun run and this was a fabulous event. Huge thanks to Jono from Selwyn Sports Trust for championing this. Children were dressed in their whanau colours and scaled obstacles and ran for a time appropriate to their age. There is a post below with some images and more on our Facebook page.


Community support is strong here at Ararira. Our support group, likely to be named Te Hapori Tautoko, met last week and started planning their first event. Details are in a section to follow. So far, we have received 7 nominations for our Board of Trustees and it's only Wednesday! A big congratulations to you all for supporting our Pink Shirt Day last week, we raised

$158.60!




You received an email earlier in the week advising you of a film crew working in the school on Friday. We have been selected by the Ministry to showcase their building work and learning in action at an Insurance conference in the U.K.


Please remember Strike Action next Wednesday and our Teacher Only Day on June 4th and make plans for your gorgeous children. Kelly Club might be an option.


Claire and the Ararira Springs Team


Kelly Club Open on May 29th Strike and June 4th Teacher Only Day
Kelly Club Ararira will open on each of these days, subject to numbers, between 8am & 6pm for a number of fun and enjoyable activities including discovery, cooking/baking, crafts, sports and games.
Come along and join Katy and her team for this day without the need to take the day off work.
Register online at www.kellyclub.co.nz/ararira
We need twelve on each of these days to make it viable and currently we have not reached that number. So please book if you haven't already!
New Children Joining Us
Our Ararira Springs Family continues to grow and a warm welcome to the following children who have joined us recently.

We know that you will soon love our school as much as we do. We look forward to getting to know you and working with you.




Teretere - Melody, Jack, Leo, Lachlan and Lucy F


Curriculum Workshop
We would love some more input on our curriculum and invite you to a session on Tuesday 28th May at 7pm. This will be held in the library, or if we have high interest, the hall. Please RSVP to Trine, trine.spence@ararira.school.nz to help us with planning.
Parent Information Sessions
We are keen to engage and work in partnership with you when it comes to teaching your children. We know that you are your child's first teacher and know them best. We are interested in providing speakers and workshops but want this to be purposeful. You may also have skills or knowledge that you would like to share. Please take the time to complete a short survey to help us with our planning.
A Fun Run for Everyone
Yesterday we hosted our fabulous first cross country / tough kid event. Thanks to Jono from Selwyn Sports Trust for setting up and helping us to run the event. Groups continually did circuits within a set time, some seniors ran a total of 4.5km! There were so many smiles and encouragement of others and leadership from our PALS.


A huge thank you to Kelly Shakespeare for the photography (you can check out Kelly's work on her Facebook page).
An Offer from the Selwyn Library
We would like to invite any teachers, support staff and parents to our "Let's talk Dyslexia" evenings on at the Lincoln Library Wednesday 22nd

(tomorrow) and the following Wednesday.


22rd May – Let's talk Dyslexia, 6 pm – 7.30pm - Lincoln Library
29th May – Let's talk Dyslexia, 6 pm – 7.30pm - Lincoln Library


Let's talk Dyslexia, with Katie Lumsden (dyslexia friendly books, e-books and what it looks like to be dyslexia)
This talk gives an introduction to the specific ways that public libraries can help children with dyslexia and their family identify some books worth trying so that every child can become a reader.


From the office:
Lost property
- There are a number of children who have misplaced jerseys/cardigans/jackets. Please ensure that all items are labelled as this makes the return of them much easier!
Waikirikiri Hockey
is still looking for Y3/4 boys and Y 7/8 boys to make up a team. Please contact Olivia Kennedy for details
secretary@waikirikiri.co.nz
True Fleece Merino
- I will place another Merino Order on Friday 31st May. Please let me know before then if you would like to order - $85 each.
Friends of the School
During our two meetings this year we have discussed setting up our group, the purpose of our group and how we can support Ararira Springs Primary in different ways. We are still in the process of deciding our name but this should be finalised soon.
This term we are going to have a

Matariki Celebration

on

Friday 28th June

in the late afternoon/evening. Matariki is the celebration of the Māori new year and we thought it would be a fantastic opportunity for our school community to come together. We have lots of wonderful activities planned for this celebration including lanterns, braziers, Matariki making activities, toasting marshmallows and hopefully a hangi. It should be a fun filled night and we hope to see you there. If anyone has experience in cooking a hangi or would like to help with the Matariki celebrations please email me at

shelleysmith1524@gmail.com

.




If you would like to come along to our next meeting, it is on Thursday 13th June from 7-8pm in the school library. It would be great to see you there.
Check out the latest from our blog...
Ararira Springs Primary is an enviro school within an enviro town. One of our enviro leaders has just implemented an enviro scheme to help both the environment and disadvantaged people with disabilities. We are collecting bread bag tags which will be melted down to make seedling trays. The profits from this used to buy wheelchairs for people who would otherwise …
An explosion of pink at school today as we showed our support for Pink Shirt Day - working together to stop bullying. Teretere ran our hui with information about how Pink Shirt Day started and messages about how to help prevent bullying. Following this, we had our Whanau groups, where we come together every 3 weeks in mixed age groups …
Thank you to those of you who were able to join us for our official opening on Thursday 9th May. Te Taumutu Rūnanga led a beautiful mihi whakatau to welcome our guests. The school was opened by Mayor Sam Broughton as he unveiled a plaque commemorating the special occasion. Lincoln High School's kapa haka team supported the kaikorero of their …
On Friday Kaunuku 6 headed to the Port Hills to take on a William Pike Challenge with Ara students training as Outdoor Education Facilitators. We left school at 8 am to meet on the Summit Road. After a safety briefing and getting kitted with harnesses and helmets we headed to 'The Jandal' for lessons in rock climbing. Like any new …
Tēnā koe, Ararira Springs has joined the Pink Shirt Day movement to Kōrero Mai, Kōrero Atu, Mauri Tū, Mauri Ora – Speak Up, Stand Together, Stop Bullying! On Friday 17th May, we're pinking out the school to show our commitment to creating an environment that is safe, welcoming and inclusive of all students. Aotearoa has the second-highest rate of school …