Board of Trustee Elections 2019
We are excited to share the 15 parent nominations for our board. Here is the information shared by the nominees. 

Voting forms will be posted on Weds 29th May and voting closes at noon 7th June. Forms can be delivered to the school office in the envelope provided or posted. To be counted they need to postmarked not later than noon on 6th June. A returns box will be in the office from Thursday 30th May.
Amanda BLACK
Tēnā koutou Ararira Whanau, ko Amanda Black tōku ingoā.
Dear Ararira Springs Primary families, my name is Amanda Black, I work as a scientist and lecturer at Lincoln University and I am a member of the outgoing establishment board.
The journey of building Ararira Springs Primary from concept to realisation has been a huge and rewarding challenge. My aspiration and passion are to continue to foster a school that is inclusive and innovative, with student well-being at the centre. Now that I have a child and Ararira Springs Primary I would love to continue to see the school and the community grow, delivering the best outcomes for Akonga / students.  Ngā mihi mahana.
Richard CLARK
Tēnā koutou katoa
My name is Richard Clark. My partner Rachel and I are proud parents to Jack (7) who is in year three, and Isobelle (2) who will be joining Ararira in the future. We have lived in Lincoln since 2014 and love being part of this community.
I have worked in banking and financial services for over fifteen years, and now run my own business, which allows me the freedom to spend more quality time with my family.
Ararira is a fantastic school and a real asset to our community. A strong Board of Trustees is integral to its success. I am committed to supporting Claire, the teachers and parents to ensure our children are provided with a rich learning environment and solid education allowing every child the opportunity to develop and fulfil their potential, leaving Ararira with the capacity and capability as emerging leaders with lifetime success.
I am an actively involved parent within the school, helping out with weekly road patrol duty, parent help on field trips and covering the school library books. I do this to support the school and the teachers so that they can spend their valuable time and resources in giving our children the high-quality education that they deserve.
I feel strongly that our children are our future. I believe that great teachers are key to providing this and that the board plays a vital role in ensuring the staff are supported with professional development, training, resources and opportunities to be able to deliver this for our children.
Justine COOKE (Cottam)
My name is Justine Cooke and I am a Mum of two (soon to be three) kids. My oldest child just started as a new entrant at Ararira Springs Primary and so I anticipate my association with the School to be for many more years to come. As you can see I have put down two last names as I am known as 'Cottam' in my professional life and 'Cooke' for everything else.
Professionally, I am a Research Scientist, having completed a PhD in Chemistry at the University of Canterbury. Following this I was awarded and did two Postdoctoral Fellows: My first was working with industry (specifically Fonterra) and my second was back in Chemistry, which also involved mentoring postgrad students and lecturing. After I had my son I decided to branch out of pure scientific research and started working in the Research Management/Advisor/Award roles in the Research & Innovation office at the University of Canterbury. Throughout my career, I have gained valuable skills in the fields of Chemistry, Biochemistry and Food Science both in the academic arena and in industry, as well as experience within other areas of research and research management.
I am running to be on the Board of Trustees as I am passionate about education, which is no surprise considering my academic background, for not just my kids, but all kids! I believe strongly that every child in our community has the right to good quality education and in order to achieve this we as a community need to not only support our local schools, but support all teachers that are on the frontline every day with our children not only teaching them, but nurturing these young curious minds in all aspects of life. I believe that a strong curriculum, high-quality leadership at all levels of the school, good teacher morale and a Board that is supportive of the principal and teachers professional development are fundamental to a school's success.
If I were elected to the Board I would bring a broad range of skills that I believe are vital and relevant to such a role, such as analytical thinking (from my training as a research scientist), management, accountability and great communication skills.
I would also really enjoy being able to contribute to my children's education by being a part of a Board of Trustees comprised of a diverse group of parents and teaching professionals with similar views.
Louise CORCORAN
My name is Louise Corcoran; my partner Matt and I have two children, Max and Amelia and have lived in Lincoln for the last 3 years.  Amelia is five and is in Teretere and Max will begin next year.
I hold a masters degree in business and a post-graduate certificate in executive management, both from Otago University.  In my recent professional life, I have held senior management positions in tourism, engineering and manufacturing businesses.  Currently, I am National Sales Manager at Pack Tech Moulding based in Rolleston. 
In my teens, I was a fruit and pumpkin picker at the orchard that has now become the Liffey Springs subdivision!  I love the outdoors and the mountains, a passion grown through winters spent working on ski fields and summers guiding and tramping in our national parks.  Curiosity took me around the world as a young backpacker.  Along the way, I fell into the sport of Skeleton and spent 10 years racing on the world cup circuit. I represented New Zealand and competed at the 2006 Torino Olympics. I have a special interest in seeing that children with high health, wellbeing and educational needs are supported in every way possible to reach their potential and become confident and happy learners.  
Being a member governance team will let me help and support the Principal and her management team as they guide and shape the future and the environment at Ararira.  Together we will grow confident and curious learners with the best possible educational foundation for a life of learning and exploring
Paul DAWSON
I was born and initially raised in Dunedin and then lived in Picton and Wanaka growing up. I have lived in Canterbury for the last 15 years and in Lincoln for the past 6 years.  I am the father of 2 boys aged 12 and 9 and a keen supporter of them and their interests which include rugby, cricket, basketball, school band, touch, taekwondo and korfball.
I started my career with international accounting firm Price Waterhouse in Dunedin and after qualifying as a chartered accountant I headed to the UK for my OE. After multiple roles in the commercial world and the accounting industry  I now work as a self-employed Business Consultant here in Lincoln.
My previous volunteer roles include:
National Sustainability Group (Institute of Chartered Accountants)

UK Branch of NZ Institute of Chartered Accountants

Petersgate Trust, and

Lincoln Rugby Football Club.  
I am a strategic thinker who's motivated to make a difference and deliver positive outcomes to any organisation I work with.
I would relish the opportunity to become a parent representative on the School Board after very much enjoying my role as a student representative on the Board at Mount Aspiring College in Wanaka many moons ago.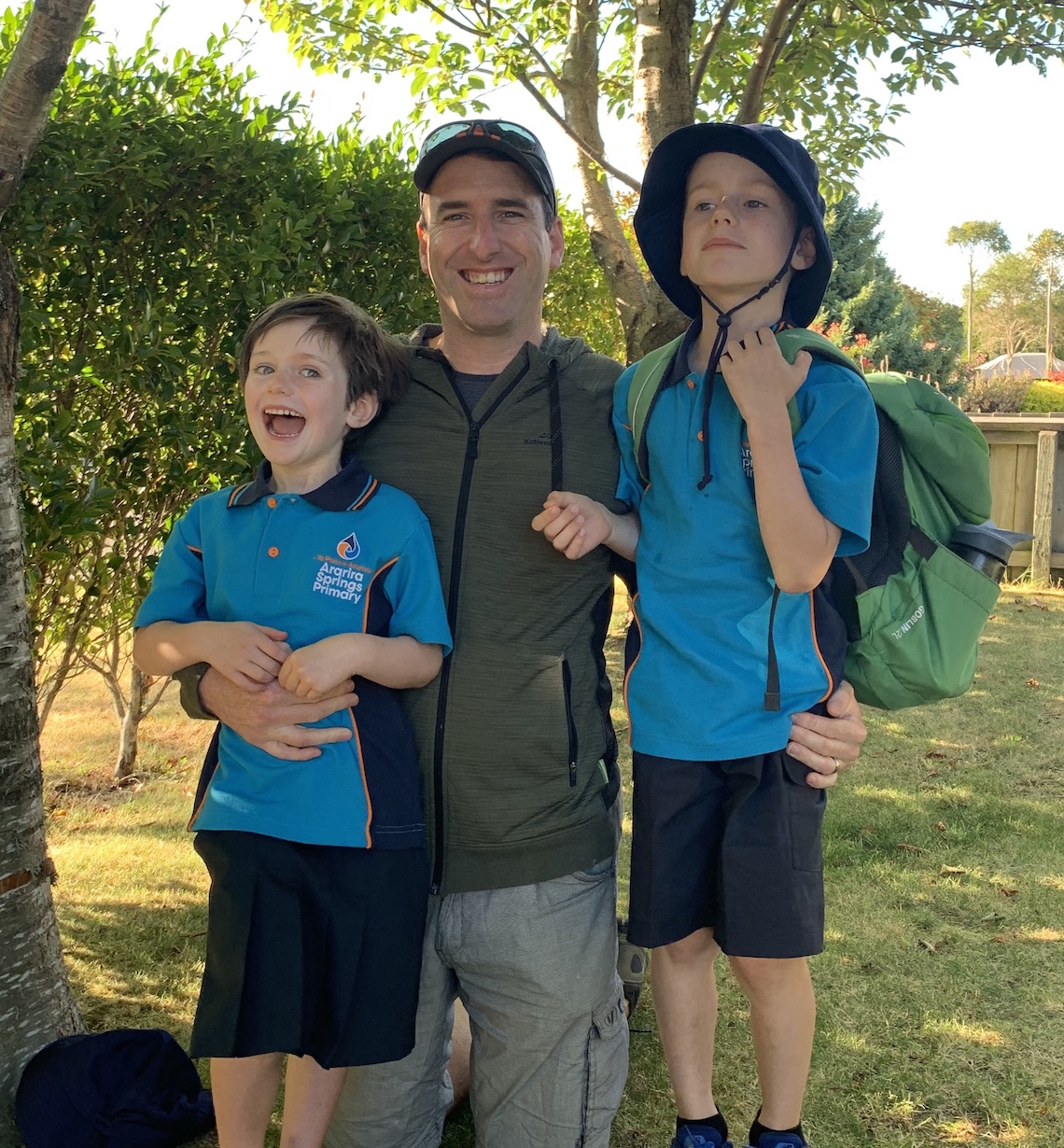 David FITCHETT
I'm excited to apply for a position on the Ararira Springs Primary School Board. I currently have 2 children (Eleanor in year 1 and Julian in year 3) who absolutely love their Ararira Springs experience, so much so that their little brother is desperate to start school as well. I want to do my bit to make sure all our kids (and the school's staff) feel that way too.
As well as being a parent I'm a property and commercial lawyer with 14 years' experience which I'd love to put to good use in benefiting the board and the school. Every day in my job I work with people to identify opportunities, ask the challenging questions, find workable solutions, resolve disputes, and achieve their goals. As a result, I believe my legal, leadership, governance, strategic thinking, teamwork and communication skills will allow me to make a positive contribution to the school and therefore our kids' future.
I'm proud of what Ararira Springs has contributed so far to the Lincoln community, and the way the school has developed a clear vision and set of values. I think that's important. I look forward to playing a role on the board's team so that the school continues to be a successful, safe, innovative, well-resourced and happy environment for our kids to thrive in and achieve their best.
Grant GALLOWAY
My name is Grant Galloway; husband to Kerry and father to Madison (Yr 5), Logan (Yr 4), Nate (Yr 2), Callen and most recently Luca.
I am a qualified chartered accountant, an experienced finance and commercial professional, with a diverse cultural and working history. I spent 12 years in audit assurance and risk management, and more recently in various finance and operational commercial roles at Synlait. The core of my experience and what I enjoy is delivering business partnering leadership, change management, continuous improvement and project management.
I am a resilient, agile, passionate people leader. I am a huge proponent of harnessing people's emotional intelligence and strengths to lead both their own personal development and to drive desired outcomes, no matter what the situation or environment.
I have previous specific BOT governance experience, having been on the Board of Trustees of Rolleston Christian School, as a parent representative and the board chair, until we moved Madison, Logan and Nate to this wonderful new school.
I believe that my diverse experiences would be of value to the Board of Trustees, the School, and most importantly all of our children, especially through this exciting 'start–up' phase.
I would relish the opportunity to serve on the Ararira Springs School Board of Trustees, as an elected parent representative.
Dan HORWELL
As one of the candidates standing for this year's Board elections, I would like to take this opportunity to introduce myself to you. My name is Dan Horwell and I have two daughters who attend Ararira Springs, our family is new to Lincoln but we already feel part of the community. This is my first time running for the Board of Trustees and I feel the time is right for me to help build Ararira Springs into a school where the students, teachers, parents and community work together to achieve great things. I believe these relationships are crucial in the development of our children so that they not only excel academically but also develop skills to last them a lifetime. I work within the construction industry as a Senior Estimator and have a range of skills that I feel will be valuable to the Board, in particular, strong strategic & analytical thinking, problem-solving and I work well within a team environment. In my spare time, I enjoy competing in endurance events such as the Coast to Coast and exploring our beautiful country with my family.
Thank you for taking the time to consider me for the role.
Hilary KINGSTON
Kia ora koutou, my name is Hilary Kingston and with husband Mike, it's an honour to be part of the Ararira Springs Primary foundation family. We are both excited to see the new school in operation and deliver real benefits to the wider community. We have three children, Isla in Year 3, and 3-year-old twins, Sam and Alice who are excited to be part of the school in a couple of years' time. I have a background in education, initially as a secondary trained teacher, a curriculum adviser and more recently as a lecturer in initial teacher education at Canterbury University.  In addition to this, it has been a privilege to be a part of the establishment board for the past 15 months. As a family, we enjoy living in Lincoln, particularly walking/biking through the wetlands and visiting the eels.
I have a passion for children and their education, through all levels. With this there are some specific attributes that I can bring to the new school board:
Continuity of care for our children, ensuring alignment with the founding principles and vision of Ararira Springs Primary

An understanding of policy and regulation that govern schools, using this knowledge to get the best for our families

Experience in curriculum design and development as an adviser, ensuring there is a good balance of literacy and numeracy, with essential problem solving and creative thinking skills providing confidence to parents that our children will be adaptive to future needs

Exposure to a wide range of primary and secondary schools throughout Canterbury, bringing in proven education initiatives
Thank you for considering me as an Ararira Springs Primary Board member. I look forward to continuing to being part of our school community as a parent and voice for all families.
Andrew MCMENAMIN
Kia ora, I'm Andrew McMenamin. My three daughters are in years 2, 4 and 7. The establishment board's vision for Ararira Springs and it's commitment to building a school centred on its pupils have created a wonderful environment for them. Now I would like to contribute by serving on the Board of Trustees.
I've worked as a structural engineer for over 20 years and I am a chartered professional engineer. My current role is as a technical director in a team of 35 structural engineers spread across New Zealand. I mentor junior engineers; oversee design and construction of buildings, bridges and other structures; provide project governance; and lead the business through a consistent display of integrity, respect and safety. For the last six years I have chaired investigations into complaints against other Engineers for Engineering New Zealand, and I have recently been appointed to chair disciplinary panels responsible for determining these complaints.
I have been involved in PTAs at my children's previous schools, including 3 years as the chair of the Lincoln Primary PTA from 2015 to 2017. During this time around $100,000 was raised for various projects around the school, including shade sails for the pool, additional landscaping for the modular block and 50% funding for the school band.
These roles are similar to that of the BoT: to ensure that the project or organisation is meeting all of its legal requirements, and to be accountable for it's performance. I have read and am comfortable with the establishment Bot's code of ethics, and I have reviewed the School Trustees Association's Community member guide to the role of the board of trustees.
My family and I love living in Lincoln because of the sense of community, the friendships we have made and the outdoor lifestyle. We love cycling, tramping, skiing and camping together.
Alan RENWICK
I live and work in Lincoln and have two children, Alfie and Alexander (in Years 1 and 4) at the school and therefore have a long-term interest in the development of the school and its place in the wider community. The fact that the school is new and facing a period of continued growth means that it is important that the Board has members that have the passion to see it succeed, but also the experience to ensure that it does.
I feel it is important that the school continues to nurture our children, have their best interests at heart and provides opportunities for them to thrive. As part of this, I think it is also important that the process of embedding the school in the heart of our community continues as this will ensure strong support for the school.
In terms of experience, through my management roles at various educational institutions in the UK, Ireland and here in New Zealand, I have gained extensive experience in the process of strategy development and implementation. This has often involved working in teams where my ability to be constructive, respect a diversity of views and achieve consensus has led to success. As the school continues to grow and develop its own identity, serving on the Board of trustees will enable me to use these skills to help ensure the success of the school.
Becoming a trustee of a school, especially a new school in my community, would be a privilege and if elected to the Board, I will endeavour to always act in the best interests of the school, its staff and its pupils.
Chris ROBB
My name is Chris Robb, I'm married to Cassandra and we have two children Matthew aged 20 and Annalise is a year 7 student at Ararira Springs. I'm an accountant and work for Westland Milk Products, a Hokitika based dairy company as a Financial Planning & Analysis Manager. My primary responsibilities are leading the forecasting and treasury functions. We moved to Lincoln two years ago, along with our dog and two cats, and are enjoying the lifestyle. I see the Board of Trustees opportunity as a chance to be more involved in the local community. I have previously served on a BOT for eight years during Matthew's time at Primary School developing a broad range of skills and experience, particularly in the area of planning and analysis. During my time on the board I was responsible for the property portfolio and oversaw some large projects. I was also privileged to be deputy chairperson and be involved in the appointments committee. Ararira Springs school is a great school and I am excited at the opportunity to serve.
Sara SHEA
Growing up in a family of teachers, I believe that learning and being curious are important life skills and school provides the opportunity for development, connecting with others and fulfilling potential.  I enjoyed my education experience and I am keen to join Ararira Springs' Board to work with others to grow our school, to ensure all our children have the opportunity to enjoy learning and developing.
My husband and I moved to Lincoln five years ago so our children could experience the lifestyle we were fortunate to have grown up in small, semi-rural villages.  Jack started at Ararira in May 2019 and Stella will join at the end of 2020. We also have two stepdaughters who are completing their degrees at the University of Otago.
I have worked in HR for 20 years, including advising many New Zealand educators on developing people, growing organisations, performance and change management.  These included Universities of Canterbury and Otago, Ara Institute of Canterbury, Lincoln High School, Roydvale School and the Ministry of Education.  This, combined with my expertise in learning and development, coaching senior leaders on engaging and developing their teams, leadership and culture development would support me to be an effective board member.  
I have experience working with many boards, including currently as Head of Organisation Development at Farmlands Co-operative, where I regularly present to our Co-operative board on people development and engagement.  
Strengths I would bring to the BOT include:
Designing and executing strategy

Collaborating with others to creatively solve problems

Critically assessing situations to make considered decisions

Playing an active leadership role.  
I would value the opportunity to use these skills alongside the board to support our principal and teaching team to lead the growth of our new school, encourage our children to be at their best and position Ararira as a true partner with our community.
Daryl STREAT
My name is Daryl Streat, and I am standing for the Board of Trustees for Ararira Springs Primary School. My family and I have lived in Lincoln since 2015 and are active members of our community.
My wife (Anita) and I have one son at the school (Callum in Kaunuku 4), as well as an older daughter who is attending Lincoln High School. After many years abroad, we returned to New Zealand in 2015, choosing to settle in Lincoln.
| work at Lincoln University as the Head of Programme for Academic English programmes, preparing international students for postgraduate studies. I have been in education for approximately 20 years, and I have worked as a teacher (both secondary & tertiary), teacher trainer, curriculum developer and programme leader. As such, I have a good understanding of the challenges faced by a school (and its teachers) in meeting the educational needs of diverse learners, such as learning in multi-lingual environments or implementing a bicultural framework.
Lincoln, as well as New Zealand, is an increasingly international community and our schools are becoming increasingly diverse. I believe my extensive experience with international students would be of benefit to the board (and school) as it moves ahead with development and implementation of its strategic plan.
In terms of governance experience, I am currently the President of the National Executive for the association of English Language teachers of Aotearoa, New Zealand. Also, I have served on electoral colleges of non-profit organisations. I have also served on numerous academic boards and committees with oversight of academic quality, learning and teaching excellence, and student experience.
Our school's vision and values are centred around the statement, "It starts with me." My approach to work and life aligns very closely to this. I am very active in the local community. I coach under 9 rugby at Lincoln Rugby Club as well as section 3 cricket at Lincoln Cricket Club. Also, I am a member of Selwyn District Council's Urban Search and Rescue Team. I have a strong community focus and service ethic.
As Ararira Springs grows and changes over the next three years, it will require a board that can act with confidence and sensitivity regarding the community it serves. I believe my professional experience, coupled with my community focus, means I can aid our school in moving towards a future in which our learners are truly caring, curious, and capable.
Victoria WADHAMS
I have been a member of the Lincoln Community for almost 5 years, working at Lincoln University before my family moved from Christchurch in 2016. I have since returned to secondary education, now teaching at Rolleston College. My son started at Ararira Springs when the school opened this year, prior to this he was a Year 1 student at Lincoln Primary and enjoyed 3 years at Lincoln University Early Childcare Centre. This is a community my family and I are invested in and are proud to be a part of.
From attending a Kōrari meeting for aspiring trustees I know I have the energy, interpersonal skills, passion and integrity this privileged and important role requires.
Strengths I have that will be beneficial for the role are strong communication skills, highly organised and experienced in collaboration, I also have a personal and professional interest in education and school governance. I can bring my experience too that comes from understanding the challenges and possibilities of opening a new school; two years ago I was part of the foundation teaching team launching a new school in the city. The learning and experience I have from this is a valuable perspective, as our school grows through its early stages. 
Ararira Springs' refreshing and relevant vision is one I am committed to working towards. Ensuring the best teaching can be delivered in a safe and supportive environment to bring about the best learning for our children.