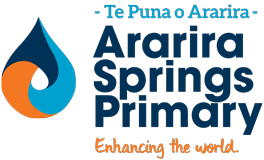 Connect Communication - 30 May 2019
Teachers are currently busy writing report comments for children in their Ako class. These are published throughout the term and you will receive an email notification for any new posts. During June teachers will record 'capable' comments in reading, writing and maths. These will be accompanied by a dot on a graph indicating the curriculum level your child is currently working at. We have also attempted to put a mark in Dec 2018 to indicate progress. Please note, this is tricky as your child's previous school may have used different moderation practices. We will be hosting interviews in the last week of term for you to discuss reports and progress with the ako teachers. Booking for these will be online and open in the next few weeks.


Please remember our Teacher Only Day on June 4th and make plans for your gorgeous children. Kelly Club might be an option.


Claire and the Ararira Springs Team


Kelly Club Open on June 4th - Teacher Only Day
Kelly Club Ararira will open on Tuesday between 8am & 6pm for a number of fun and enjoyable activities including discovery, cooking/baking, crafts, sports and games.
Come along and join Katy and her team for this day without the need to take the day off work.
Register online at www.kellyclub.co.nz/ararira
New Children Joining Us
Our Ararira Springs Family continues to grow and a warm welcome to the following children who have joined us recently.

We know that you will soon love our school as much as we do. We look forward to getting to know you and working with you.




Teretere - Alex A and Harper G


If you know of other children planning on joining us later in the year or even in 2020 can you please encourage families to pre-enrol. This allows us to plan ahead and recruit the teachers we might need!


Curriculum Workshop - Thanks for your work!
Thanks so much for those of you that could make our curriculum workshop on Tuesday. The work we have put together to date is on display in Pūtahi (library). Please feel free to grab a pen and contribute your ideas. The area that we are wanting input is 'what' you feel is important to learn in each of the learning areas. We have endeavoured to separate these ideas into:
Caring - Heart - Attitudes
Curious - Head - Knowledge
While we are discussing the learning areas individually it is important to note that our curriculum design, through 'enhancing the world', tackles learning with a problem-based approach that is contextualised, integrated and authentic.
Parent Information Sessions
We are keen to engage and work in partnership with you when it comes to teaching your children. We know that you are your child's first teacher and know them best. We are interested in providing speakers and workshops but want this to be purposeful. You may also have skills or knowledge that you would like to share. Please take the time to complete a short survey to help us with our planning.
Rotary Quiz
Congratulations to Phylis and Lucy for representing Ararira at the recent quiz in Lincoln.

The girls were really enthusiastic and worked well together to answer some very tricky questions. The girls finished in 7th, though with 0.8 more points they would have got 4th! A very tight race!
From the office:
Please place orders for Merinos by Friday 31st May. When you receive your order, please name it straight away as there are already cardigans floating around with no names on them, making them difficult to return to their owners!
If you are using a smartphone you can keep up to date by adding Ararira Springs Primary to the Skool Loop App. This is an easy add by searching either the App Store on your iPhone or the Play Store on your Android device.


Once downloaded you follow the prompts to find us. Skool Loop will allow you to have easy access to push out notifications, newsletters and enable you to notify the office of absentees. Trine will be sending an email with this information in more detail. Our hope is that it will reduce the stream of emails from Linc-Ed. Its success does depend on the uptake so help us, particularly if you are NOT a Facebook user.


Te Hapori Tautoko - Community Support
During our two meetings this year we have discussed setting up our group, the purpose of our group and how we can support Ararira Springs Primary in different ways.
This term we are going to have a

Matariki Celebration

on

Friday 28th June

in the late afternoon/evening. Matariki is the celebration of the Māori new year and we thought it would be a fantastic opportunity for our school community to come together. We have lots of wonderful activities planned for this celebration including lanterns, braziers, Matariki making activities, toasting marshmallows and hopefully a hangi. It should be a fun filled night and we hope to see you there. If anyone has experience in cooking a hangi or would like to help with the Matariki celebrations please email me at

shelleysmith1524@gmail.com

.




If you would like to come along to our next meeting, it is on Thursday 13th June from 7-8pm in the school library. It would be great to see you there.
Ararira Springs Zone Cross Country Team
Congratulations to the children who travelled to Halswell Quarry to compete in the Zone Cross Country. You were the very first children to represent us at this event. Thanks for the energy you put into the run and the big smiles. Parents, thank you for your support. The team consisted of; Emma S, Paige, Madison, Teoni, Olive, Sophie, Georgia, Annakin and Sky.
Hanmer Camp
We are looking to book Hanmer Camp for Year 5-6 in late February in 2020. We are looking to hire a house in Hanmer for any parent helpers who assist with the camp. If you or anyone that you know can help with this matter please email blair.cook@ararira.school.nz.
Branded Gazebo - see your business in bold!
Ararira Springs is investigating purchasing a gazebo that we can use at various sporting and outdoor events. We have an opportunity for a local business or company to sponsor the gazebo and have their logo printed on the gazebo. If you would like to find out more details please email
blair.cook@ararira.school.nz
.
Road Patrol
If you are able to volunteer in the morning or afternoon to help assist with road patrol please email blair.cook@ararira.school.nz.
In the morning it would be from 8.30am - 9 am and in the afternoon 2.50pm - 3.10pm. Your help is greatly appreciated.