Connect Communication
and Closure Update
24th March 2020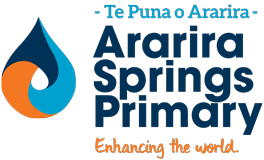 There is no doubt that these are challenging times. We are amidst an unprecedented global event due to Covid-19. Work, recreation, shopping, socialising and schooling will be disrupted. We also realise that many of you are isolated from your family overseas and will worry. There is a lot of uncertainty and with this increased anxiety.
We encourage you to focus on the basics right now. There are things you can control, like good nutrition, getting some exercise, getting outside, ensuring good sleep hygiene and

unplugging from social media if you find it contributes to your anxiety.

Connecting with others is critically important, despite necessary constraints on physical closeness. Get online, skype, facetime, messenger and Instagram do have advantages.




Further down in this newsletter we have included the change in school holidays and how we can support learning at home. These are only suggestions. You know you and your family situation best. Learning won't happen in a time of high stress and maybe the best advice for the immediate few days is to calm and connect.
There is also additional information on how you can share learning at home with the school via the Linc-Ed platform. This will enable teachers to comment on learning. This will be particularly useful for younger children who are not working on an online platform.
I will be in touch over the next few weeks and will even connect via video on Facebook. Watch this space.
Recent Ministry of Education Email
With today's announcement by Government, we are implementing with urgency our plan to support your child's learning from home. We appreciate this is a sudden and significant change and will be heavily disruptive to many people in our community.
For all other children, we will be supporting their learning from your home in the following ways:
through online learning delivered through the hub blogs, this is accessed through the learning at home tab of the website

boredom busters and online snippets (on the learning at home blog)

contact your child's teacher via email if you have questions or concerns
If you need to have your child cared for by someone else you will need to identify that person or people as part of your self-isolated group. This will need to be done by midnight Wednesday and the group must remain the same for the whole 4 week period. The caregiver's own group (eg, their partner and children), your child and your own group (eg, your parents and other children) become one group. This group needs to be limited to minimise any risk of spread and should be no more than 20 people.
Your child will be looking to you for guidance about this decision. Parents, caregivers, whānau and teachers will have a particularly important part to play in reassuring children at this time. If you haven't already done so, you may wish to read the information put together by the Ministry of Education to support your conversations with your children –
Talking to children about COVID-19
As noted by the Prime Minister these restrictions are our best chance to slow the virus in New Zealand and to save lives. We all have a clear role here to slow the spread of COVID-19.
School holidays brought forward
School holidays are being brought forward so that they are completed within the 4 week period. Holidays will now begin from Monday 30 March to Tuesday 14 April inclusive (a reminder that the Tuesday after Easter Monday is always a closed day for schools).
At the end of the school holidays, schools will be open for distance learning but not physically open for staff to work at the schools.
Please note the instruction to stay home (Alert Level 4) will continue beyond the new school holiday period but schools will be technically open for distance instruction. Teachers will be working offsite.
We will amend our school calendar to reflect these dates. As yet, the term 2 start date is to be determined.
From the Board of Trustees
The BOT is working closely with Claire and the leadership team to ensure positive staff wellbeing and that they have what is needed to provide support to children and families during the remainder of this term and into next term while schools are closed. These are challenging times but we have a wonderful school community, well equipped to get through this and support each other.
Connect online with the school when you can. It will be great to see some of the creative activities children get up to and good to share ideas for other families to try out while we navigate our new 'working from home' and home schooling environments.
We are providing a range of opportunities for you to support learning from home. We understand that for some of you this will be challenging when working from home as well. Our team are trying to keep this fun and engaging. For younger children, the most important thing you can do is read to your children, play games and talk.


Each hub will provide links to online learning opportunities via there blogs. In addition, Donna and I will set up a blog to other activities. Our learning at home tab has links to recommended sites but there will be more of these on the team blogs.


Some learning ideas will be shared this week and then again after Easter when the school holidays end. However, there will be an additional blog of learning activities that you can access through the school holidays with boredom buster ideas (this is yet to be created - tomorrow's job) but will be linked to the school website.


Sharing Learning with Us
You may remember from a past newsletter, instructions on how to share learning outside of school with us. This is a great opportunity to share photos, images, movies or a description of what you are doing at home. The writing about the learning can be completed by yourself, the child or together. Once submitted teachers can then comment and give feedback.
1. Log in to your Linc Ed account
2. Find the 'Learning@Home' button
3. Click 'share something'
4. Write a wee blurb describing the learning
Kindo online store is up and running for our sushi orders and other fundraising initiatives, including Bento Ninja and toothbrushes. Make sure you register to make the most of ordering sushi and supporting THT fundraising. Close off time for sushi orders has been changed to 8.30am. You can place your orders here.
Resilience Journals for students and parents now available on our THT online store
Journals by AwesoME available now on our online shop - Kindo at wholesale prices (eg. $22 rather than $30 for the kid's journal).
Order by 2nd April, then your friendly THT will be in touch to confirm your delivery address and drop in your mailbox.

Any questions - email Fran - fran.fitchett@gmail.com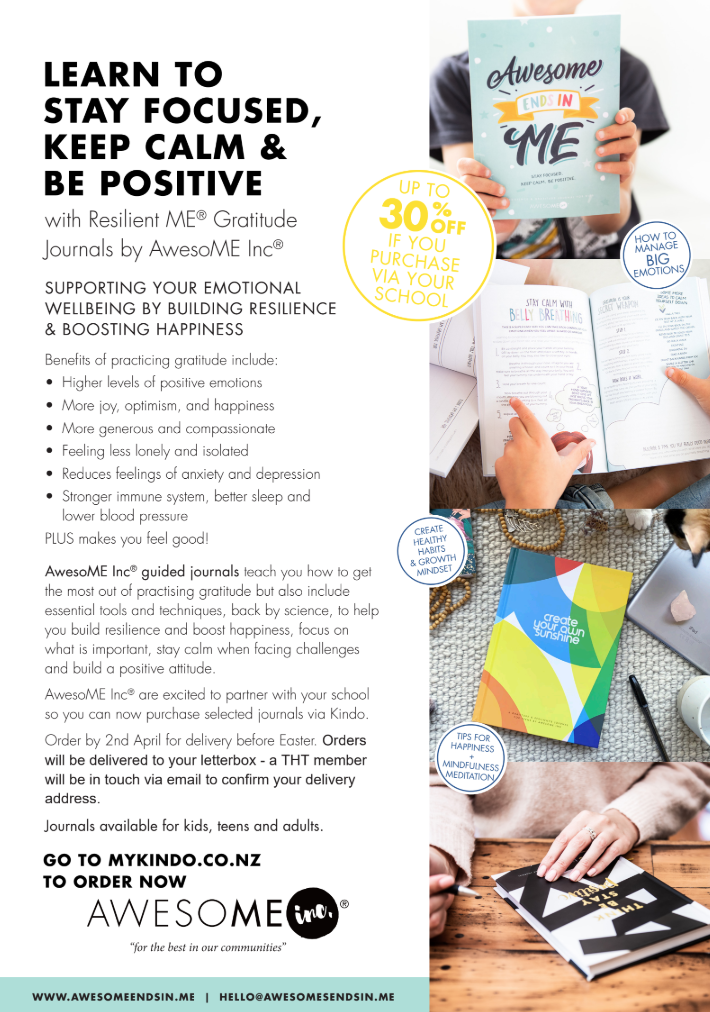 Challenge 1
Our first challenge is to pop along to the school and take a photo of yourself outside the hall. We want you to be the I in Kind over the next few weeks.